Inbox 3.0 (Notifications v3)
in progress
1) Grouping similar notifications together and clearing all with one click
2) Dynamic notifications: if you've seen activity (for example new comments in a task view) then we'll remove those notification items automatically
3) Notifications marked as "read" so you can easily see from all views if you have unread activity
4) Snooze notifications and set do not disturb times
5) Easily see which tasks have new activity in all views, so you don't have to go to notifications to know when there's new activity
6) Make Notification Preferences easier: allow users to save settings across teams and allow admins to set preferences for their users.
Merged in a post:
Task name missing from sub-task view
the parent task seems to be missing in a lot of places I'd expect it. In the example attached, I'm looking at notifications. It shows the path to the operations folder, and the main task of Ad Hoc Requests, but the sub-task between what's displayed is not shown anywhere. It doesn't make sense to me that this piece of information would be missing.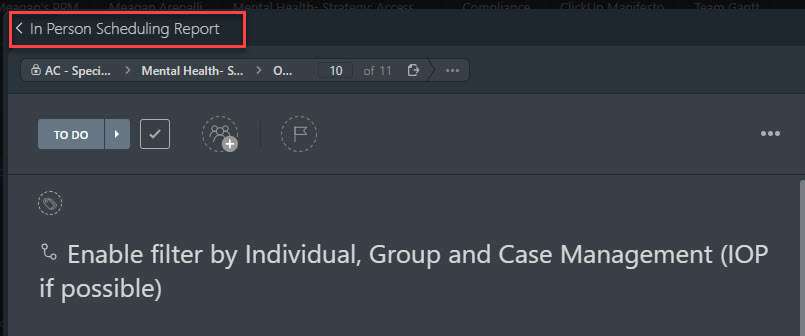 Merged in a post:
New, Seen, and Cleared for Notifications views
It would be super helpful if the default tab for Notifications was only for notifications that have come in since the last time the Notifications were opened, while the ones previously loaded (but not necessarily looked at) would show in a view called "Seen."
I often don't have time to deal with notifications, but I like the idea of "zero inbox." I know I can use the tray or other methods to clear notifications but not lose track of things, but I think the implementation of a Seen view would REALLY be helpful.
Merged in a post:
Notifications: order by higher Priority first. Urgent ones first!
Our main view in ClickUp are the task assigned to me order by Priority.
Unfortunately there is not a way to see if someone wrote a new comment in that view, so we only know 2 ways (both non-efficient):
Check from time to time if there is an answer in the Urgent-High priority tasks. And it's NOT so quick to see if there is a unread message somewhere...
Check ALL notifications (including the low priority ones)
Please note that this request have been created as requested by customer support. I've attached a video on those emails to customer support. Subject: ClickUp Support: how to see if something unread in the List View + how to see unread threads only in the task (about checking more urgent / high pr... (#1349839)